​If you are pregnant nursing, or receiving medical care, consult with your physician prior to use.
Clinical Human Trial of Goyamin Shows Reduced LDL Cholesterol Levels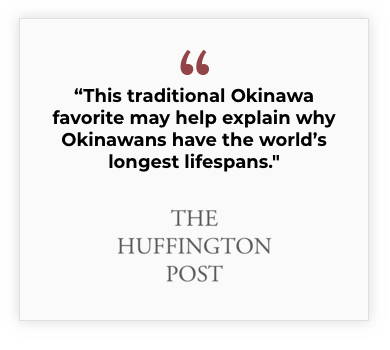 The secret to Okinawan longevity

Okinawans have become well-known for having some of the longest lifespans in the world, and researchers believe that their plant-based diet is one of the most important contributing factors. Labeled one of the world's five Blue Zones by National Geographic, Okinawa's secret recipe for longevity blends together elements such as low stress, natural exercise, and a diet rich in nutrient dense vegetables, such a goya (bitter melon).

Unparalleled quality from harvest to production


48 Hours from harvest to production
All of our ingredients are grown on certified farms in the most prominent farming prefectures of Japan, and the nutrient extraction takes place within 48 hours of harvest, which ensures the highest level of nutrient concentration.
Extracted using water from Mt Fuji
Pure, high quality water is vital to our extraction process. To ensure that the extracted brolico nutrient retains the highest immunity activation level, we use fresh spring water sourced directly from the melted snows of Mt. Fuji.​

Our patented Phyto-Thermal Extraction process is uniquely designed to apply a precise balance of heat and pressure, which opens the cell wall and allows us to access and extract the phytonutrient without the use of solvents, microwaves, or other synthetic materials – a definitive step to achieve the most effective results.
Produced in a clean, sterile environment
Our facility is GMP certified, which means we meet all FDA health and safety standards during production. All equipment is sterilized in high temperatures, and each batch of is tested to ensure the highest level of purity.​